About 01-06JUNE…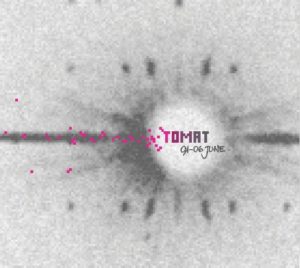 INTERNAZIONALE  (Pier Andrea Canei)
Here Davide Tomat, musician, composer, producer and little fool man falling on to the ground with 01-06JUNE, a concept album from a cosmic sound designer, electronic immersive that fluctuate from Vangelis to Radiohead.
POPMETTERS (Steven Spoerl)
http://www.popmatters.com/pm/review/157921-tomat-01-06-june/
TOMAT :01-06JUNE is may be destined to become a curiosity that elevates itself to cult favorite in years to come. It's far too early to tell now. All we can do is sit back and enjoy a genuinely fascinating debut from a fairly exciting new artist who's provided us with some conversation-starting music that's pretty damn good.
GOD IS IN THE TV (Dominic Valvona)
http://www.godisinthetvzine.co.uk/2012/04/04/tomat-01-06-june-monotreme-records/
Tomat remains a real ambient composing talent. One of my picks of 2012 so far – a high recommendation from me.
ROCKERILLA (Roberto Mandolins)
Few elements (voice, a monophonic synthesizer and guitar), but many ideas in the head of David Tomat.
Unmissible.
MUSIC NEWS (Adam Kingsley)
It 's always a good thing when a member of a band is able by itself to create a fantastic album only with their own ideas and this album is a great example of this.
These are Davide Tomat limited only by your imagination.
NOISE (Anthony Belmonte)
A man in command, undisputed master of conceptual and orchestral textures, a heroic one-man band of the past, devoted body and soul to a futuristic electronic crafts.
BLOW UP (Guido Gambacorta)
Electronic rears, evaporates and expands, capturing intermittent signals of frequencies hypnotic or lanciaindo Seefelt in the space mission and then the material is molded in rubbery funk, ambient drone in vischisità, in turning techno-pop and grit dubstep.
HEAR HEAR (Edward Bridda)
A nice bed to dive into that 90% of items and 10% by a monophonic synthesizer (as well as flashes of guitar).
LOSTHIGHWAYS (Katia Arduini)
Try to close your eyes and stand listening, it will be like an astral journey. A fascinating journey, hypnotic. A hard really interesting to discover you listen.
TITEL MAGAZIN (Papier Tigre)
01-06JUNE is an absolute must, a great album, expertly arranged and composed intelligently from start to finish.
A potential contender for album of the year.
DMC WORLD MAGAZINE
Debut LP that synth soundscapes composed of 1, 1 guitar and layers and layers of voices, to create an ethereal and almost bibilica proportions miraculous. Incredible!
PETROL MAGAZINE (Denis Zorgniotti)
01-06JUNE album is a heady mixture as a layer cake of tracks that mix, echo, vibrate together in a joyful polyphony.
TRASMISSIONARY
Because once you reach the end of this journey through ethereal soundscapes, we can only say that it was worth it.
AUTRES DIRECTIONS
With a prodigious miracle, Tomat can convert istantani melodic sound experiments in a dangerously charming beauty. No one knows exactly how, but a divine light illuminates this disc. 01-06JUNE opens up new avenues of research.
DOMINIODEUSES
June 1 to 6 is a musical offering diverse and dynamic, in which the aesthetic audacity not only ensures a constant renewal of interest, but also gives the security to be a very important work artistically.
BANDWALL (Mark Suadoni)
Listening to the album in full concentration, all spreads, all lights, everything vibrates, as if the body loses its physical qualities and to range as a circle around the water merging with resto.Come there was a sun near us, as if we ourselves were part of that sun, and believe me, we are!
MUSIC ZOOM (Diego Ama)
the feeling that gives me listen to the whole album is to not wait to watch a live performance by the artist, this work is placed within that group of Italian investigators that liven up a scene unfortunately not considered. You have to stay in touch with Tomat, we must remain in touch…